Paola de la Calle
San Francisco, CA | Artist | @paoladelacalle, www.paoladelacalle.com


Project Title: "Entre Las Cenizas Hay Machetes" (Beneath the Ashes There are Machetes)
Identies/Ideas in Artists Work: Politics/Activism
Location: San Francisco, CA - SOMArts Gallery

"Entre Las Cenizas Hay Machetes" (Beneath the Ashes There are Machetes) imagines the moment before rebuilding, before creating a new future, right after a world has been set on fire and all that remains are ashes. At the center of the installation lay a pile of machetes, which symbolize rebuilding as the machete is strictly utilitarian. It's a tool used to cut coconuts, cut trees to build shelter, cut sugar cane to add some sweetness, to clear trails through dense forests, and in this case, a tool to build a new world. The work itself is a reference to the uprisings in Colombia and the idea that there is an opportunity to rebuild when we set fire to old systems.
Renewed.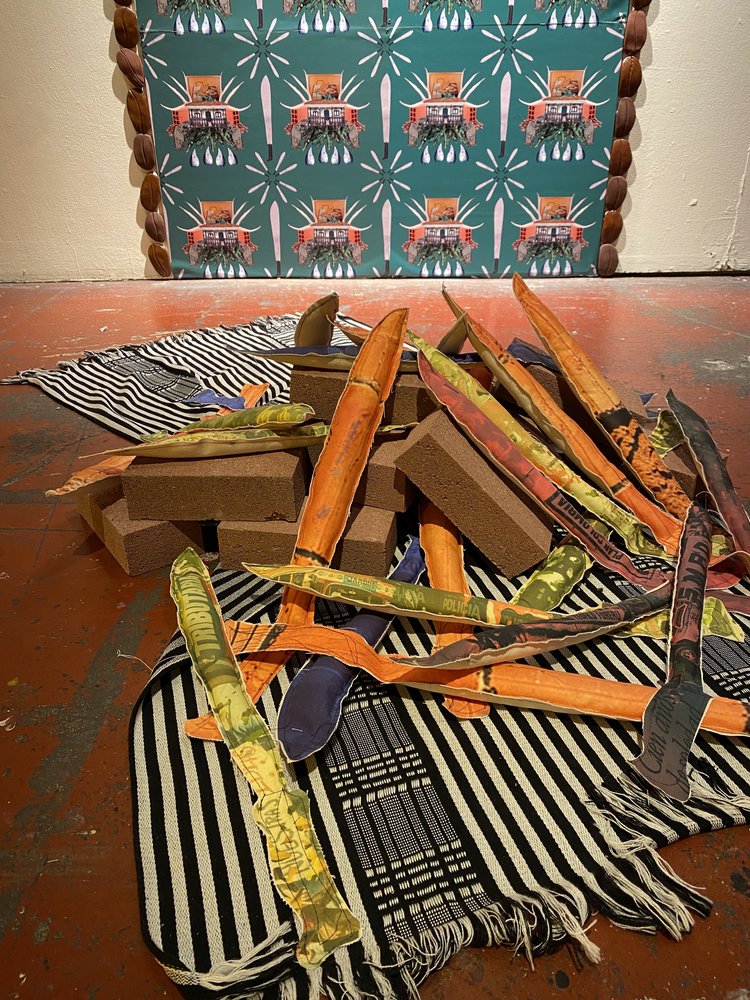 How do you reclaim the collective sensory experiences that will tell the story of your community?


This installation is part of an ongoing body of work, "Tipico", that aims to reclaim "typical" narratives about Colombia. Often this narrative is centered around violence, the war on drugs, and Pablo Escobar. Instead of focusing on violence, this installation is focused on resistance and pueblo. The fabric on the soft sculpture machetes which pulls from found images of the recent uprisings in Colombia (due to tax reform policies that are affecting mostly Black, Indigenous, and working-class communities in Colombia) installation aims to amplify the voices of Colombians on the ground working to create a dignified future and imagine new realities. Part of the installation is a wallpaper that acts as the backdrop for the piece. It is composed of objects and cultural artifacts which are typically found in suitcases of tourists coming home from vacation in Colombia. The image itself references Botero's painting of Escobar being killed on a rooftop in Colombia by the DEA and Colombian Armed Forces backed by the US. Instead of Escobar, we see an image of a green toy soldier, this again imagines new realities and offers new perspectives on US intervention in Latin America. It makes the viewer question the narrative that has been typical of Colombia and who is responsible for the storytelling.
Who is your audience? How do you imagine your work will inspire change?

My audience is folks living in the United States or people who consider themselves Americans. I hope this work sparks dialogue and reflection. While the art itself can be a catalyst for change, I think there needs to be more work for real change to occur beyond looking at art.




Paola de la Calle is a Colombian-American interdisciplinary artist whose work examines home, borders, identity, and nostalgia. Her practice is a multidisciplinary exploration that ties together her family's migration, personal memories, as well as historical and political narratives through the use of textiles, printmaking, and collage. Her work has been exhibited in private and public spaces throughout the United States and internationally through public art interventions and installations. De la Calle is a graduate of the New York Foundation of the Arts Immigrant Artist Program in 2019 and is the 2020-2021 Artist-in-Residence at Galeria de la Raza. Her work has been published in The New Farmer's Almanac, and The Hammer Museum's Graphite Journal. She has been featured on Hyperallergic's "A View from the Easel", KQED's Rightnowish, NowThis, Vogue Mexico/Latin America, and Vogue US.