Marble & Media Lab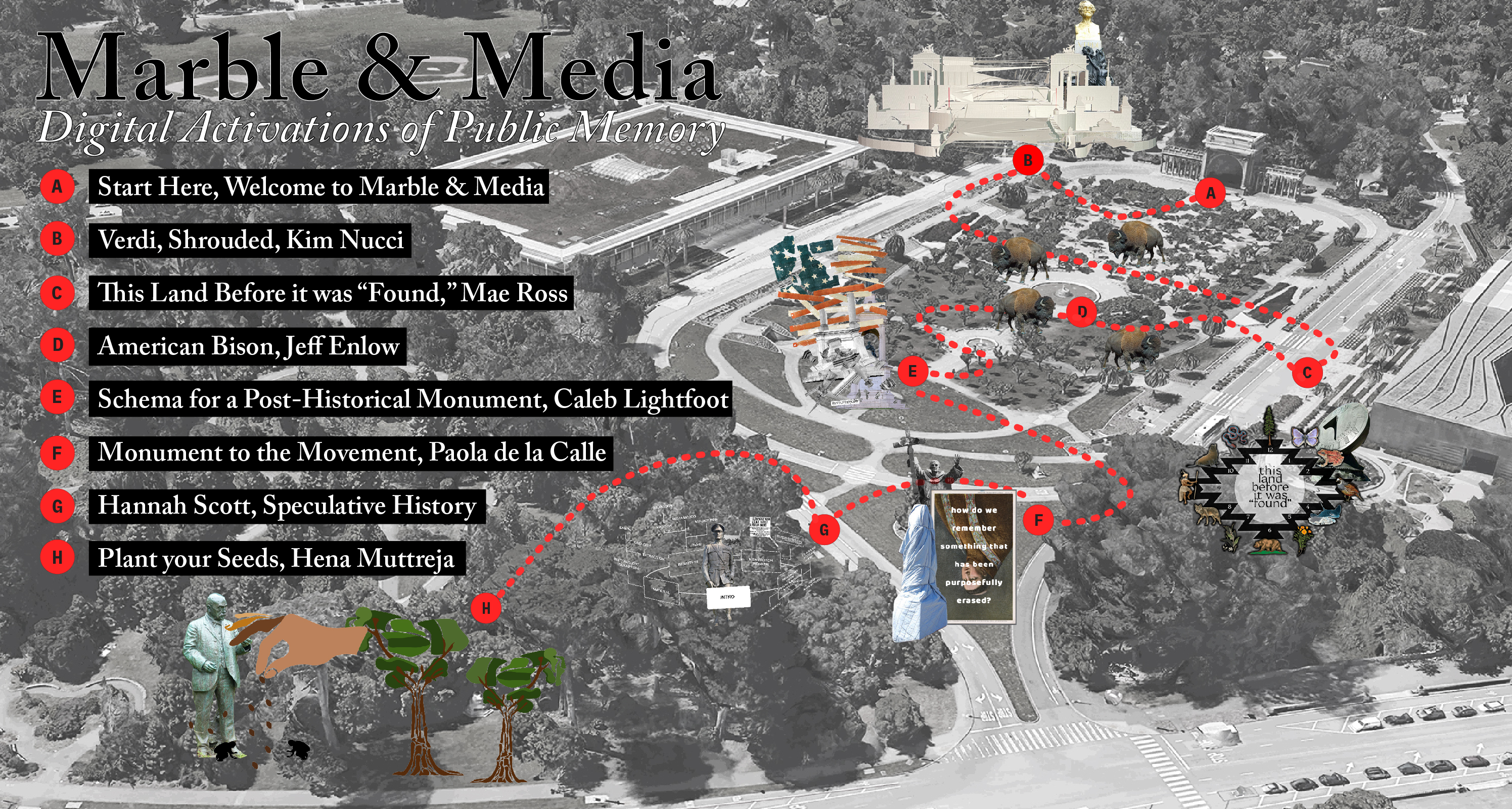 Marble and Media: Digital Activations of Public Memory is a
ZERO1
creative laboratory co-led by artists Cheyenne Concepcion and Camila Magrane in collaboration with New Monuments Taskforce and emerging artists from across the Bay Area.
Lab Description:
2020 was a tumultuous year for SF's monuments. Last year, following a national reckoning around race and representation, the toppling of X SF monuments across the city, and the controversy surrounding a design for a Maya Angelou monument, New Monuments Taskforce emerged as an artistic tactic to engage a critical conversation on the city's civic monuments and the forces that uphold them. Guised as a fantastical municipal agency, New Monuments Taskforce is a platform engaged in the dialogue, design and development of New Monuments. We create space for critical conversations, radical research and experimenting with new ways of memorialization.
This workshop does just that. Over the 6-week workshop, as a group, we will had critical conversations on memorialization techniques from our Nation's past in order to build on these themes for the future. We used Golden Gate Park's Music Concourse as a site of investigation and experimentation. Using Augmented Reality, this workshop tests experimental methods of representation and analysis while challenging preconceived notions of monuments and how history gets written. Artists learned from examples of artists, writers and designers whose work also reckons with themes of memory and place. The final projects will consist of individual works that will be deployed in situ, as part of a public group exhibition.
Schedule:
2/17/21 - 3/3/21: Site Research & AR Development
3/3/21 - 3/17/21: Individual Project Development
3/18/21-3/31/21: Install & Trouble shooting
3/31/21-4/7/21: Exhibition Period
Participating Artists:
Hannah Scott
Kim Nucci
Jeff Enlow
Mae Ross
Caleb Lightfoot
Paola de la Calle
Hena Muttreja