A few months ago, NMTF asked the question, "How do you reclaim the collective sensory experiences that will tell the story of your community?" I acknowledge that this is a loaded question. It's a question that gives space to those working to reclaim the journey of (touch, sight, hearing, smell, and taste) people's experiences and stories in public space.

When I sit with this question, I think about works that exist today. The works that really lean into my own memory drive the work I do. In the heart of the Latino Cultural District in San Francisco lies Balmy Alley. An alley photographed, published, a destination for many visiting the city. The alley is full of murals from the 1970s to today. Murals from the first known all-women mural collective, Mujeres Muralistas, to young local muralist Lucia Ippolito. Murals about home, leaving home, destroying home, culture, history, religion, and politics. Painted by women, people of color, elders, and youth.

In 2011, I began working for Mia Gonzalez at Encantada Gallery. I later learned Mia was a co-founder of Balmy Alley. I remember her reminiscing how it was a community members' effort to come together to help create a beautiful and safe pathway for its youth to walk thru the community from the afterschool program she helped manage from the schools and Garfield Park. At the time, the alley needed to be reclaimed by the community to make it safe, reflective of its people's stories. Without the support from City officials, they created a legacy; they created something for the community to pass on to the next generations, a collective sensory experience that tells a story of the community for and about its people.

In recent years, we have seen the toppling of monuments, decolonization of public space, and black artists being silenced. I believe the pandemic has forced us to take a deeper look at our shared spaces, who we miss and memorialize. Really how do we see ourselves being remembered?

As I approach 2022, I take the energy to keep pushing against toxicity, masculinity, and white supremacy—the energy to take on new challenges and prioritize wellbeing, and voices. I welcome and am open to new opportunities. The arrival of positive change for my community. Also, be mindful that change happens in small increments, not significant major shifts.

Furthermore, I must give time and appreciation to my ancestors, my elders, and those that have planted the seeds before me in other to build a better future.

In The Future is a zine that uplifts Black, brown, people of color artists, queer and women creators, and communities in physical and digital worlds that HAVE reclaimed collective sensory experiences. As we question, "what is a monument?" or "what does a community public work look like?" These are eight examples of how we aspire, approach, view, and learn to think about public art. Each contributes to the small increments of needed change in our shared space. Ten completed public-facing created works with the community.

Thank you to the team between our day jobs, artistry, and Omicron. We worked to do our best with grace. Gracias to my hermanas: Cheyenne Concepcion, Hannah Moore, and Claire Flanegin.

En communidad,

Anna Lisa

In The Future, a digital zine that uplifts ten artists and changemakers finished works that explore the future of monuments and cultural memory. Each reclaims the collective sensory experiences and tells the story of your community?" NMTF invites you to explore each one of them, to learn and inspire you to create future change and to pay close attention to those that have and are currently pushing forward.
In the Future Project List: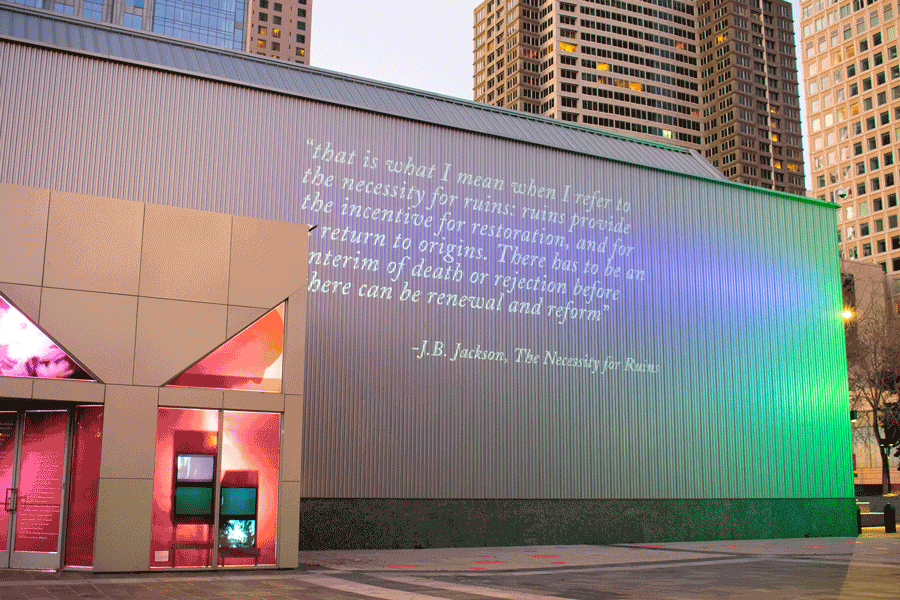 New Monuments Must, 2021


Yerba Buena Center for the Arts as part of SF Urban Film Festival
Yer


---
Marble & Media Lab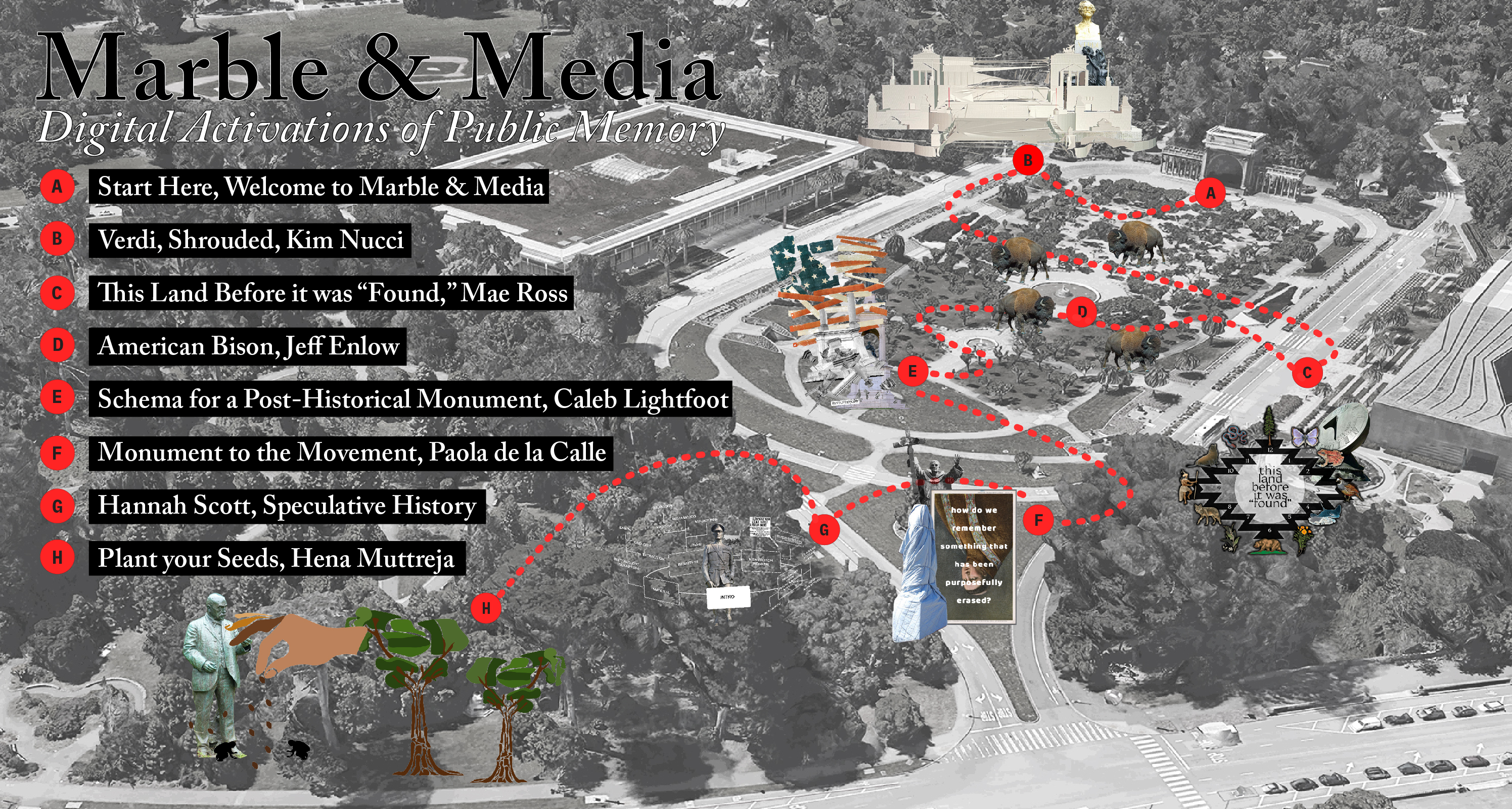 Marble and Media: Digital Activations of Public Memory is a
ZERO1
creative laboratory co-led by artists Cheyenne Concepcion and Camila Magrane in collaboration with New Monuments Taskforce and emerging artists from across the Bay Area.
Lab Description:
2020 was a tumultuous year for SF's monuments. Last year, following a national reckoning around race and representation, the toppling of X SF monuments across the city, and the controversy surrounding a design for a Maya Angelou monument, New Monuments Taskforce emerged as an artistic tactic to engage a critical conversation on the city's civic monuments and the forces that uphold them. Guised as a fantastical municipal agency, New Monuments Taskforce is a platform engaged in the dialogue, design and development of New Monuments. We create space for critical conversations, radical research and experimenting with new ways of memorialization.
This workshop does just that. Over the 6-week workshop, as a group, we will had critical conversations on memorialization techniques from our Nation's past in order to build on these themes for the future. We used Golden Gate Park's Music Concourse as a site of investigation and experimentation. Using Augmented Reality, this workshop tests experimental methods of representation and analysis while challenging preconceived notions of monuments and how history gets written. Artists learned from examples of artists, writers and designers whose work also reckons with themes of memory and place. The final projects will consist of individual works that will be deployed in situ, as part of a public group exhibition.
Schedule:
2/17/21 - 3/3/21: Site Research & AR Development
3/3/21 - 3/17/21: Individual Project Development
3/18/21-3/31/21: Install & Trouble shooting
3/31/21-4/7/21: Exhibition Period
Participating Artists:
Hannah Scott
Kim Nucci
Jeff Enlow
Mae Ross
Caleb Lightfoot
Paola de la Calle
Hena Muttreja